At right is a photo of students' cubbies showing their special word card rings. These are metal rings holding "key words" that are personal for each student. Students use them as a resource when writing in their journals, and sometimes just read them with classroom helpers or classmates.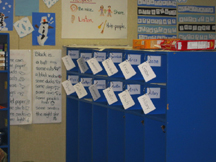 Here is a student working on writing "Ho Ho Ho" on a chalkboard after practicing for the school Christmas program.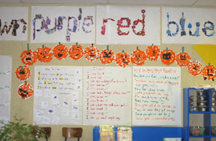 I use a lot of print in the classroom, so my walls are usually covered with charts of poetry and a variety of shared writing, alongside art and other work.