Patterns are important in the Kindergarten classroom and we do a lot of them. We color, cut, glue, build, name, extend, and talk about patterns all the time.
The first patterns we make are AB patterns. The patterns below are colored on graph paper.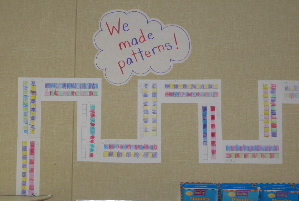 Our classroom theme during November was "Friendship" so students were asked to make some friendship patterns. To do these, students first used pattern blocks to build a pattern, then used construction paper cut-outs of the pattern blocks shapes to glue their pattern on the paper. The trick was that one person had all of one color pattern blocks, and the other person had all of the other color, so they were required to work together to complete the assignment.