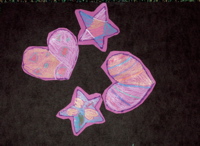 Second Grade Art Work
The art work here was created by second grade students in my Art classes at three elementary schools. Second grade students are asked to look carefully at their own work and the work of others, think about what they are doing and what they are going to do, make specific choices about their work, and talk about their results. Click on the links to see a few more examples from these lessons.
Visit my art teaching blog, Creating Art With Kids, to read detailed directions for and comments about many of these lessons, and feel free to email me with any questions or comments.